About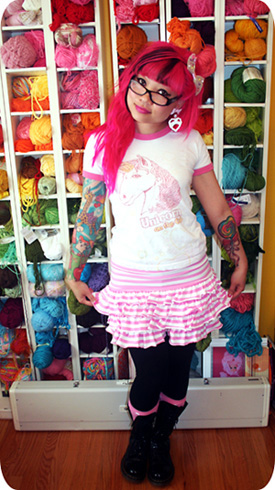 About Yummy You!
"Yummy You! by Twinkie Chan" began back in 2005 when Twinkie Chan couldn't find the fun, quirky scarves she wanted in stores, so she went home and crocheted them herself. On a whim, she cooked up her own website, www.TwinkieChan.com, to sell her uniquely food-themed designs, and they sold out in less than a week. While continuing to sell her goodies online over the next few years, she became somewhat of a cult favorite in the craft and crochet world, with customers and collectors all over the globe. She then created "Yummy You!" in order to make her signature designs more accessible to more awesome people.
In the Yummy You-niverse, we wear cupcakes around our necks and sushi on our feet. We love color, have fun with our fashion, and celebrate feeling cute at any age! Both food and fashion can delight all of your senses at once, with visual vibrance, textural tastyness, and nostalgic memories that conjure favorite smells and special moments. With Yummy You!, Twinkie Chan hopes to help make you feel more yummy and to make the world a yummier place.
About Twinkie Chan
Twinkie Chan lives in San Francisco with her infamous rainbow yarn wall. While developing Yummy You!, she still also designs and crochets for her Etsy shop and art shows. She was extremely honored to contribute exclusive designs to the Hello Kitty 35th Anniversary fashion show in 2009 and the Sanrio 50th Anniversary art show in 2010. Her work has been featured in magazines such as Giant Robot, Woman's World Magazine, Glamour Italia, Mollie Makes, and Nickelodeon Magazine, on the DIY Network, and on countless blogs across the webiverse ranging from fashion to tattoo/alt culture to crafting.
The incredible demand for her crochet patterns inspired her to write her first book, "Twinkie Chan's Crochet Goodies for Fashion Foodies: 20 Yummy Treats to Wear," published in Fall 2010 with Andrews McMeel Publishing. In 2011, "Crochet Goodies" won About.com's Readers's Choice Award for Best DIY Fashion Book in 2011.