News
My Guest Column in Simply Crochet Magazine Issue 60
July 29th 2017
Posted by TwinkieChan
I have a new guest column in Issue 60 of Simply Crochet Magazine!
I talk about how I learned to embrace a trend when my instinct has always been to avoid them because I never just want to do what everyone else is doing.
I'm definitely late to the cactus train. Like, really really really late. But once I started thinking about how to do it my way… I fell in love! Read more about it :).
If you want to check out my first Simply Crochet guest column, it was about finding inspiration in Japan!
p.s. for those wondering, YES, I will be releasing my cactus patterns. I just need time to prep them!
---
Announcing: The Big Comic Relief Crafternoon Magazine!
January 29th 2015
Posted by TwinkieChan
You're invited to host a Big Comic Relief Crafternoon: a crafty get-together for you and your friends, family or as many makers as you can cram into the kitchen/diner to raise funds for Comic Relief and Red Nose Day (March 13). For this very purpose, there is a special edition of Mollie Makes magazine called "The Big Comic Relief Crafternoon," sponsored by Create & Craft, and contains 50 projects inside that can be worn to raise awareness or sold to raise money for Comic Relief.
"The Big Comic Relief Crafternoon" is the brainchild of jewellery designer Emma Mitchell (@silverpebble on Twitter) who approached Jane Toft (@JaneToft on Twitter), former editor of Mollie Makes, to help her make it happen! They are joint editors, and Jane also did the design and production of the mag. They both gave their time for free to raise as much money as possible for this brilliant charity.
It is on sale in Sainsbury's (in the UK) and iTunes/Google Play RIGHT NOW as of Thursday 29th Jan. Each issue is £7.99 and 5 whole quid of this goes to Comic Relief to support their wonderful projects in the UK and Africa.
There are OODLES of exclusive new tutorials inside from crafters such as Deadly Knitshade, Tif Fussell, Attic24, Jodie Carleton, Lynda Lewis from the Great British Sewing Bee, Mr X Stitch, PLUS favourite Mollie Makes designs from the likes of Gretel Parker, Marna Lunt, Messyla and Zoe Larkins. My crochet patterns for my toast scarf and bacon & egg mitts are also in there!
As the theme this year is "Make Your Face Funny for Money," they've included stupendous patterns and tutorials including knitted beards, crochet red noses, and a Liberty print moustache.
There's also a guide to running your own craft fair, so readers can make an entire troupe of felt guinea pigs/nursery full of Spring posy brooches/forest of moustaches and sell them to make more crafty cash for Comic Relief.
To connect with The Big Comic Relief Crafternoon and get more info, check out The Big Comic Relief Crafternoon Facebook page and also their Twitter account @CRCrafts.
So grab your hooks, pull out the fabrics and have a wonderful Red Nose Day #crafternoon!
---
Ginormous Yummy You! ad in Nylon Magazine! (February issue)
February 3rd 2013
Posted by TwinkieChan
So, my big face (3 times) is lurking in your Nylon Mag this month! Go pick up a copy! It's the February issue with Selena Gomez on the cover.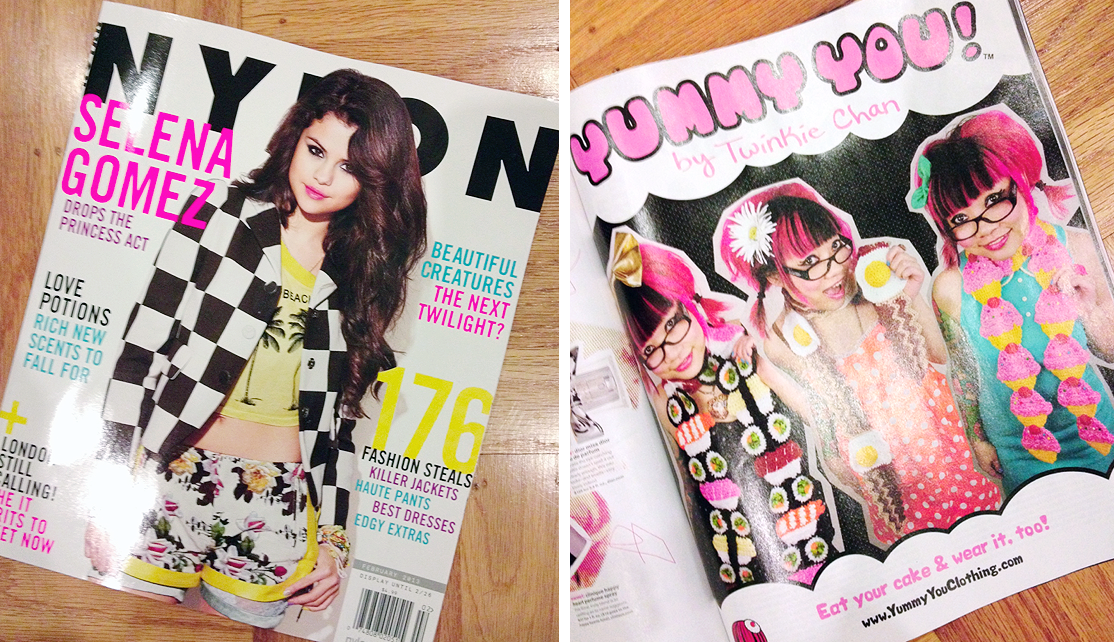 Sorry for crappy iPhone pics! I keep avoiding having to futz with my new scanner!
I made this ad past the ad deadline while all these Nylon people were waiting for me. Initially, another Yummy You! ad designed by my licensee was supposed to go in that space to promote a new collaboration. The collaboration is still happening, but at the time of the ad deadline, all the paperwork still wasn't complete, so at the end of the day when the ad was due, I was asked to create a new ad on my end just for general Yummy You! product, but RIGHT AWAY, since everyone was already waiting. My team had some quick ideas for a photo to substitute in and what layout to use so that I could produce this ad super quickly, but the photo and logos and everything weren't really working inside the magazine specs, and the poop was hitting my mental fan, since I knew people were waiting, and I kept getting emailed to SEND SEND SEND. So I had to scratch the team's idea completely and just kind of randomly create another one on the spot, based on photos I use on my business card. I really hadn't had time to organize any cute photoshoots for emergencies such as these, so I felt especially flustered. I don't know anything about laying stuff out properly, and I don't even think things are aligned and centered properly, but for having to bust it all out at the last minute and not knowing what I was doing, I think it turned out ok! I was really worried about typos because I was so frazzled!
It's kind of funny, because as you flip through the magazine, it's all kind of cool and grown up, and then you are hit in the face with a big punch of pink and bubble lettering. It kind of seems out of place, but in a way, I guess that has been my mission all along: to give everyone permission to wear cute colors and cute things, and that age shouldn't determine what is ok for us to wear as long as we are having fun! Cute is cool!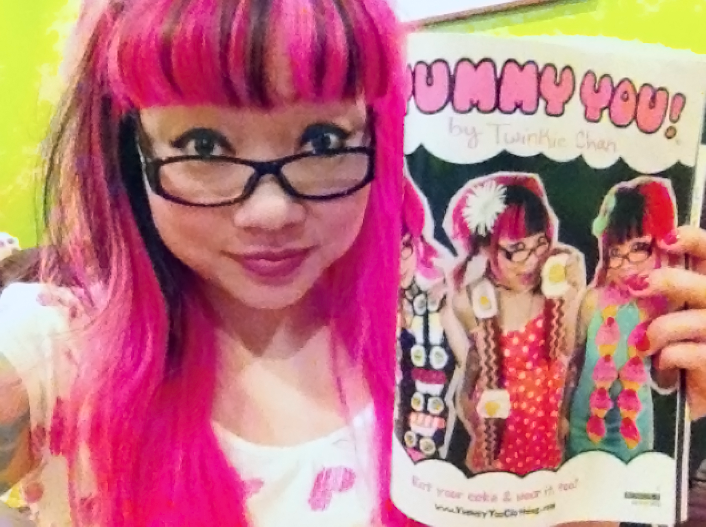 ---